37th America's Cup Barcelona 2024
MBCAT is a Fountaine Pajot catamaran rental company based in the Balearic Islands and the Costa del Sol. During the 37th America's Cup in 2024 our home port will be in Marina Vela, Barcelona, ​​offering our 3 catamarans for rent during all the races. and training for one of the most important events of the year.
Below we detail all the information about each boat, so that you can evaluate the possibility of having us during the competition dates (September and October 2024 in Barcelona).
FOUNTAINE PAJOT ISLA 40, (2022)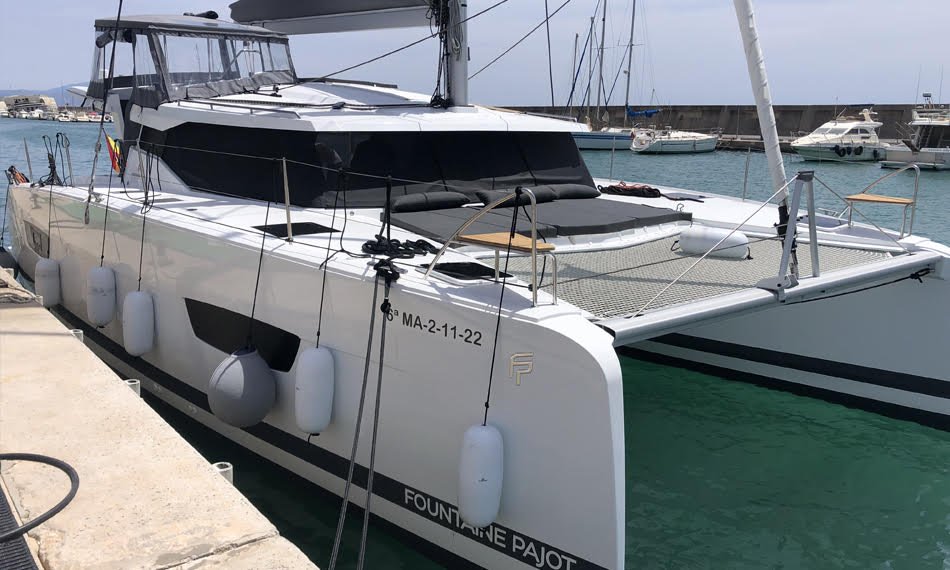 Technical details/em>
Type: Catamaran
Rental type: With skipper
Yacht builder: Fountaine Pajot
Model: ISLA 40
Year of construction: 2022
Total length: 11.93 m – 39.14 ft
Beam: 6.63 m (21 ft)
Draft: 1.21 m (3 ft)
Cabins: 3+1
Seats: 6 + 1 + 1
Toilets: 3
Mainsail: full batten
Engine: 2 VOLVO x 30.0 HP
DOSSIER FOUNTAINE PAJOT ISLA 40 – MBCAT
——–
FOUNTAINE PAJOT MY44 (2021)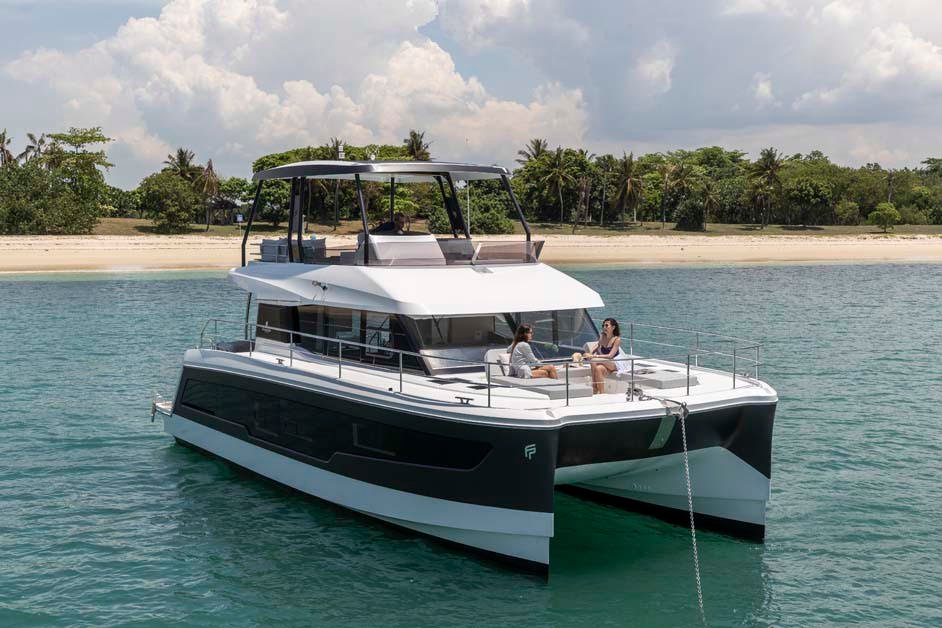 Technical details
Type: Motor catamaran
Rental type: With skipper
Yacht builder: Fountaine Pajot
Model: MY44
Year of construction: 2021
Total length: 13.40 m (44 ft)
Beam: 6.61 m (20 ft)
Draft: 1.3 m (3 ft)
Cabins: 3+1
Seats: 6 + 1 + 1
Toilets: 3
Engine: 2 x VOLVO D6 650 DG
DOSSIER FOUNTAINE PAJOT MY44 – MBCAT
—–
FOUNTAINE PAJOT ALEGRIA 67 (2022)


Technical details
Type: Catamaran
Rental type: With Skipper and Sailor
Yacht builder: Fountaine Pajot
Model: ALEGRIA 67
Year of construction: 2022
Total length: 20.36 m (67 ft)
Beam: 9.84 m (32 ft)
Draft: 1.75 m (5 ft)
Cabins: 4 + 2
Places: 8 + 2
Toilets: 4 + 2
Mainsail: classic/standard
Genoa: furling/reel
Steering type: 2 steering wheels
Engine: 2 x 300.0 HP
Diesel
Fuel tank: 1200 liters
Water tank: 1000 liters
DOSSIER FOUNTAINE PAJOT ALEGRIA 67 – MBCAT
Rent a private catamaran and enjoy the Barcelona 2024 America's Cup live from the sea. All regattas and training from an exclusive catamaran for companies, families or friends.
If you have any questions or need a detailed quote, we are at your complete disposal at the following email: m.benalmadena@marinabenalmadena.com